Overview
---
Hospitality is one of the promising industries in Solomon Islands but lacks high quality and competent professionals to respond to its operational challenges. Seeing this significant need, Solomon Islands National University, the Department of Hospitality and Culinary Arts, continues to offer programs to address these ever changing issues and concerns in the field of hospitality. Ever mindful of the important part and contribution that hospitality plays in the economic growth and development of any nation such as Solomon Islands, it intends to become a leading educational institution in the region by resolving to provide strategic approaches and sustainable solutions to the many Tourism and Hospitality issues defined within the context of the Solomon Islands setting.
Hospitality department programs are designed to provide its graduates with ethically sound values and moral understanding that will initiate, develop, and build a local tourism and hospitality infrastructure that is environmentally sensitive and socially responsible and further, to create viable Tourism and Hospitality ventures and employment opportunities for its indigenous people.
Students are trained and developed to acquire a holistic and realistic knowledge of the different sectors of the tourism and hospitality industry. They are also provided with appropriate communication and management skills necessary to make them better and active participants in their chosen profession.
Quality Education
---
The STHM offers quality education in Hospitality Studies and is looking to develop its Culinary Arts program.
STHM focuses on conventional thinking and explores many aspects of the Hospitality and Culinary Arts industry both locally and internationally. This will enable students to see beyond the classrooms, national context and understand Hospitality operations from day-to-day.
The Department of Hospitality and Culinary Arts was established in 2020, as a result of the reform and restructure of the Solomon Islands National University.
Envision
---
Envision the possibility of a better world through Hospitality
It is more than just Hospitality. Hospitality is about people welcoming other people into their homes or other places where they work or spend their time. People who welcome visitors and you're known for being kind and welcoming to visitors.
Studying Hospitality
---
Studying Hospitality at STHM, students will acquire the knowledge of the hospitality industry within Solomon Islands as well as at the international level.
This is examined with special attention to guest profiles, relations to attraction sites and new developments and the operations of the hospitality business establishment. Students need to acquire skills required in Occupational Health and Safety, Food and Beverage, Cookery, Function service, Catering and Event Management in both practical and training sessions.
Moreover, understanding the role of the concepts and structured leadership in the areas of accommodation, dining and general guest services, housekeeping management, problem-solving skills, good communication skills, leadership skills and good interpersonal skills are acquired.
Graduates are prepared to both provide better hospitality services through competent management and, develop a better tourism and hospitality world. The program also aims to prepare students for further education, by providing opportunities for research, problem solving and critical thinking. These aims articulate the role of the Department of Hospitality Management (DHM) in achieving the stated objectives of the School of Tourism and Hospitality Management (STHM).
Student Fieldtrips & Student Internships for Hospitality Students
---
Through field trips, students can have amazing learning experiences while they are having fun. Stepping away from their regular school environment actually opens up their minds and helps them retain lessons better and it also part of their assessments. Students will have an excursion to various parts of the Tourism and Hospitality Industry and other organizations in Honiara.
Programs Offered
---
Bachelor of Hospitality Business, Tourism and Event Management
This program is designed to equip those who are eager within the management roles and responsibilities across the tourism and hospitality and event sectors. The duration is 3.5 years covering 28 Units with a total of 420 Credit Points. Is set to start in the semester 2, 2020.
Diploma Hospitality Management
Diploma of Hospitality Management offers an opportunity for those who are interested in hotel management, leadership, customer service, and health and safety and service Business.
Certificate in Hospitality Studies
Certificate in Hospitality is the first step to the diploma of hospitality an introduction to hospitality studies.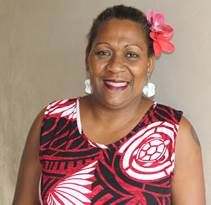 Mrs. Mary Raupata Tavava
Assistant lecturer Tourism and Hospitality
Postgrad Dip in Commerce, Tourism and Hospitality, University of the South Pacific (USP),SUVA, Fiji. Certificate III in Commercial Cookery, APTC, Queensland Tafe, Samoa. Certificate 4 Culinary Arts, Toi-Ohomai, Institute of Technology, Rotorua , New Zealand. Bachelor in Education, Food Science and Technology, USP, Suva Fiji.