Overview
---
Studying tourism at the School of Tourism and Hospitality Management (STHM) includes the history and culture of Solomon Islands together with inspiring, teaching and learning with the international, regional and national tourism context.
The department currently offers courses at Undergraduate levels with a Certificate of Travel and Tourism (CTT), Diploma of Travel and Tourism (DTT), Diploma of Tourism Studies (DTS) and Bachelor of Tourism and Event Management set to start from the semester 2, 2020.
To date, our graduates from the undergraduate levels in the past have excelled in various positions of responsibilities in the tourism industry across the Solomon Islands.
The study of tourism is exciting as the global largest, fastest and growing industry with the complex phenomenon but also regarded as a significant social and economic activity, and a source of environmental and social change. Studying tourism is also about the possibility of a better world through tourism and we are committed to contribute to the sustainable tourism future and invite you to be part of the journey for a better future.
Quality Education
---
The STHM offers quality education in Tourism Studies and is looking to develop its Hotel Management program in the near future.
STHM focuses on conventional thinking and explores many aspects of the tourism industry both on local and international tourism perspectives. This will enable students to see beyond the classrooms, national context and understand tourism operations from day-to-day.
The Department of Tourism and Hotel Management was established in 2020, as a result of the reform and restructure of the Solomon Islands National University.
Envision
---
Envision the opportunity through Tourism of a better world.
It is more than just Tourism. Tourism is about the people, places, resources, environment, government and communities. We are doing just that through building Sustainable Consciousness both the staff and students, research and working with key businesses and people.
We provide quality, theoretical-informed Tourism Studies and work that address some of the key issues of the 21st century including;
Quality, innovative and interdisciplinary teaching
Produce great graduates for the tourism employer in Solomon Islands
Leading in the Study of Tourism discipline
Engage quality human resources
Studying Tourism
---
Studying Tourism at STHM, the student will acquire knowledge and gain insights needed in the exciting and fastest-growing travel and tourism industry.
Other than business management, studying tourism is about understanding ourselves, our resources, cultures, heritage, natural environment and the people who come to visit our islands. Moreover, understanding our role in the economy both locally and globally.
Student Fieldtrips
---
As part of student assessments, students will go on an excursion to various tourism and hospitality industries across Honiara and Guadalcanal. Depending on the units' assessments, the students will explore the business environment, do fieldwork, research and interview tourism business owners. The experience will provide students learning outside of classrooms to the reality on the ground. Students will also have the chance to reflect and envision their interests after graduating to be self-employed – start their own business or join any of the tourism and hospitality sectors.
Student Internships for Tourism Students
---
You can take advantage of this opportunity during your degree for Certificate of Travel and Tourism, or within one year of graduating for Diploma of Travel and Tourism and Diploma of Tourism Studies. The internship programme provides you with opportunities to gain work experience with some of the renowned tourism and hospitality companies, organizations and also meet like-minded students who are looking for a great experience and friendships and building relationships with the tourism and hospitality employers across Solomon Islands which in one way or another will land you a job after graduating.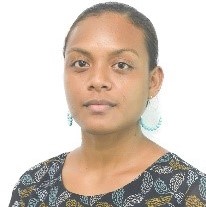 Ms Buia Betengi Sikua
Head of Department | Assistant lecturer Event Management
Postgraduate Diploma of Commerce in Tourism and Hospitality Management, Bachelor of Commerce in Tourism and Hospitality Management, University of the South Pacific (USP), SUVA, Fiji.