Overview
---
The Pro-Vice-Chancellor Academic (PVCA) oversees the academic affairs of the university to the Vice Chancellor. The Pro-Vice Chancellors (Academic) is a member of the Senior Executive of the University, the Senate, and the Council. The office of the Pro-Vice-Chancellor is responsible to improve academic management in a dynamic and competitive sector; infrastructure and maintenance issues in support of academic activities. The main activities of the office of the PVC(A) are to manage the academic affairs of five faculties and two institutions, engage in scholarly activities via research and postgraduate studies, and Disseminate information via the university library system. (SINU.lib.net) Also, oversee the office of the Student Academic Services (SAS) to provide support for the academic requirements of students, Schools, and SINU ccourse structures and availabilities. SMS Course Admin & Student Data, as well as Standards and Quality Office (SQO).
Pro Vice-Chancellor Academic (Acting)
---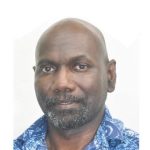 Dr. Eric Katovai
Dr. Eric Katovai is an accomplished academic and environmental biologist specialising in ecosystem functioning, plant ecology, and conservation and restoration. He currently serves as the Acting Pro Vice-Chancellor – Academic and Dean/Associate Professor in the Faculty of Science and Technology at the Solomon Islands National University (SINU).
With 17 years of experience in academia, Dr. Katovai has held various administrative roles in the institutions he has worked for. Notably, he was the Assistant Dean of the School of Science and Technology at Pacific Adventist University (PAU) from 2015 to 2018, and in 2018, he served as the Director of Research and Postgraduate at PAU. Additionally, he was the Biodiversity Conservation Research Group Leader at the University of the South Pacific (USP) from 2019 to 2022.
His expertise lies in the field of Tropical Forest Ecology in Southeast Asia and Oceania. Throughout his decade-and-a-half-long research career, he has focused on topics such as biodiversity, vegetation dynamics and ecosystem functioning in human-altered landscapes, land-use management, and restoration of highly degraded forests.
Dr. Katovai is actively involved in several research and landscape rehabilitation projects in the Solomon Islands. He is passionate about encouraging young and upcoming scientists and academics to engage in research that addresses the specific needs of their country.
His academic achievements include a Doctor of Philosophy in Tropical Ecology from James Cook University, Australia, a Master of Science in Conservation Biology from the University of Queensland, Australia, and Bachelor's degrees in Biology and Physics, as well as a Bachelor of Education in Biology and Physics from Pacific Adventist University, Papua New Guinea.