Overview
---
There are two schools that operate under the Faculty of Business and Tourism Studies. The schools are; School of Business & Management and School of Tourism & Hospitality Management. The School of Business and Management offers Business Accounting, Economics and Management courses. The School of Tourism and Hospitality offers certificate and Diploma courses in Tourism, Hospitality and Travel & Tour. The school is also looking at offering a  Bachelor of Tourism and Hospitality Programs in the near future.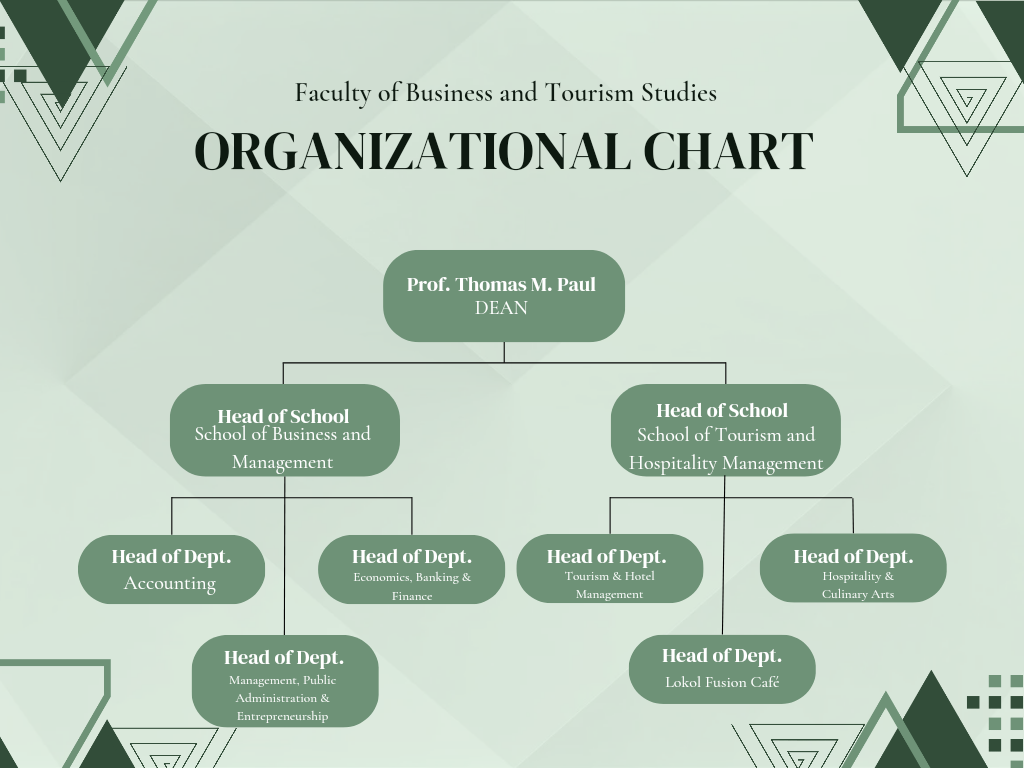 The faculty has various boards that are responsible for different administrative and academic matters of the faculty and the university as a whole. The composition and structure of the boards are aligned to the organizational structure depicted above. The two notable administrative boards are the Faculty Executive Board and the Schools Executive Boards while the three notable academic boards are the Faculty Academic Board, the Faculty Examination & Assessment Board and the Schools Academic Boards.
Faculty DEAN
Name: Professor Paul Muthucattu Thomas
Office: SBM Office Building, Kukum Campus
Office Phone: (677) 42799
Mobile Phone: TBC
Email: Dean.FBT@sinu.edu.sb
Faculty Administration Officer
Name: Ms. Tania Aonima Hanuara
Office: SBM Office Building, Kukum Campus
Office Phone: (677) 42858
Mobile Phone: TBC
Email: TaniaAonima.Hanuara@sinu.edu.sb
Professor Dr. Thomas Muthucattu Paul
Professor Thomas Muthucattu Paul is the Dean of the Faculty of Business and Tourism Studies.
Before joining SINU on June 2022, Professor Thomas Paul was the Professor of Applied Economics and Finance and Head of the Economics Section at PNG University of Technology, Lae, Papua New Guinea. Professor Thomas Paul was also a Professor of Finance, and member of the University Senate, member Selection committee Professor Chair at the University of South Pacific, Fiji. He was also a Professor and Head of Department of Banking and Finance at European University of Lefke, North Cyprus. He was also a Professor of Economics at Mad ras School of Economics, India. Professor Thomas was also a Professor of International Banking and International Finance at the National Institute of Bank Management, India. He was also a Professor of Microeconomics and Financial Economics at the University of Botswana. Professor Thomas was a Reserve Bank of India Chair Professor in Monetary and Macro Economics at the Institute of Social and Economic Change, India.
Professor Thomas Paul published several journal articles in internally recognised journals, wrote a Book titled "Risk Modelling and a study   of CAPM for major Indian Companies." – An Empirical Study on Stock Returns which was published by Lambert Academic Publishers, Germany, Europe, and USA in July 2012. He also wrote several Book Chapters in quite a number of published books.