---
The Faculty of Education and Humanities (FEH), the largest faculty at Solomon Islands National University in terms of student and staff numbers, comprises two schools: The School of Education and the School of Humanities.
The School of Humanities comprises of six departments at Panatina campus, east Honiara.
Departments
Department of History
Department of Social Sciences
Department of Language & Communications
Department of Geography
Department of Sports & Creative Arts
Department of Media & Journalism
Please click on a Department to read more about it.
The School has a total of sixteen (16) well-qualified and dedicated academics who teach a diversity of units which range in subject-matter from Religious Studies, Linguistics, Early Childhood Education, History, Journalism, Literacy and Communications to Sports and Creative Arts.
Although large, the School of Humanities does not have separate programmes from the School of Education. Instead, the academic staff contributes equally in teaching toward the Bachelor of Teaching, Diploma and Certificates in the faculty. The structure is excellent as it means students will graduate with a well-rounded interdisciplinary education firmly anchored in Education and the Humanities which prepares them well for the job-market whether in teaching, government, or administration.
The Faculty of Education and Humanities is located at the Panatina Campus, high on a ridge that provides not only a panoramic beautiful view of the Point Cruz Harbour but also a peaceful atmosphere conducive for learning. Within the peaceful atmosphere students and staff can intermingle, learning from each other not only about school subjects but, equally important, their respective cultures as well.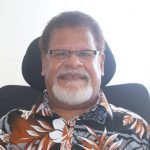 Dr.David Gegeo
Dr. Gegeo holds a PhD in Political Science and Political Philosophy; an M.S. in Mass Communication and Public Relations; and a B.A in Cultural and Linguistic Anthropology.  He has taught at both the undergraduate and postgraduate levels at universities in the U.S.A., New Zealand and Fiji. His areas of teaching and research interests include: indigenous/Pacific epistemology; indigenous methodology; indigenous hermeneutics; indigenous philosophy; ethics; ethnic integration; Pacific cultures; gender equality; de-colonization; ethical development; globalization; development; indigenous theocracy; indigenous historiography; Third World Politics; and Trans-Asia-Pacific diaspora. Besides teaching and research, he has also held important administrative positions. Dr. Gegeo's philosophy in teaching is to empower, transform and enlighten students.