Overview
---
Introduction
The department of forestry offers:
Certificate in Plantation forestry
Diploma of Tropical Forestry
The programmes cover broad topics across the discipline of forest sciences with emphasis on forest utilization and management and its application in the Solomon Islands.  Many units in these programmes focus on developing the knowledge and skills required in forestry.
Aim and objectives
The key goal of these programmes is to train students with the academic and professional knowledge, technical skills and management skills required to pursue a career in Forestry.
Entry Requirements
Admission to Forestry programmes strictly adheres to the following:
Minimum Requirement for admission to Certificate in Tropical forestry

Pre-Service

Admission requirements are minimum Form 5 students who hold an S.I. School Certificate with good passes in English, Mathematics and Science; an aptitude for outdoor work; leadership qualities and interest in living in rural areas.

In-service

A minimum requirement with reference given to Form 3 leavers with 3 - 5 years of experience in the relevant field, or candidate nominated from industries, NGO's or Communities that are engaged in related forestry activity programs. These candidates need to put proven leadership competence during their 3 - 5 years of work in Forestry or other Forestry related disciplines and have the potential for further training at Certificate level.

Minimum Requirement for admission to Diploma in Tropical Forestry

The diploma course admits students at the Forms 6 & 7 Science (Biology) with B or above in English and Mathematics, or a holder of Certificate in Tropical Forestry, or a Certificate in Plantation Forestry with a GPA of 2.5 or above, and /or Form 5 in Science (Biology) with 3 years of work experience.

Internship
Students registered for the Diploma Programme will be undergoing a 3 months internship programme referred to as Work Based Learning unit. This component of the programme allows students to have firsthand work experience with chosen industries/companies.
Programs Offered
---
Programs offered by the Department of Forestry are as follows: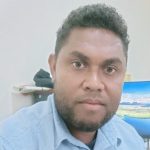 Mr. Carlos Hiro
Master of Forestry Science from the University of Canterbury (UC), New Zealand, Post-Graduate Diploma in Forestry from the University of Canterbury (UC), Bachelor of Science in Forestry from the University of Technology (UNITECH) , Papua New Guinea.
Carlos Hiro joined SINU in 2015 after working for Soils, Plants & Environment Consulting (SPE) on Mine-Site Rehabilitation, World Vision Economic Development Project and the Secretariat of the Pacific Community Land Resource Division. His research interest are on restoration of degraded tropical forest, forest biodiversity and tropical silviculture