Overview
---
Introduction
This Fisheries Studies program is developed to meet the growing need of the fisheries industry in the Solomon Islands. Following a Fisheries training needs assessment (TNA) conducted in 2012 /2013, The Solomon Islands National University (SINU) developed courses in fisheries studies to meet the needs identified in the various fisheries sub-sectors in the country. The TNA shows that fisheries being one of the major revenue earners of the country needs well-educated fisheries professionals in senior positions in the industry to manage the many fisheries developments and issues faced such as managing fish stock at a sustainable level, creating policies and regulations at the national and regional level, developing fisheries economic projects for communities and getting the maximum benefit for the county's fish either for the man in the village putting fish on the table or for export. The program is exciting and presents career opportunities for many aspiring young people.
Courses

The program comprises of three levels of learning: Certificate, Diploma and Bachelor of Fisheries Studies. Students enrolling at the Certificate level can progress to the Diploma level, and students enrolling at the Diploma level can progress to the Bachelor level. To progress to higher levels of learning, students must have attained a minimum GPA of 3.0 and above, at their current levels. If students enrolling at the Certificate and Diploma levels do not meet the required GPA at the end of their respective studies, they will be required to have 2 years industrial experience to be eligible for admission into a higher-level program (i.e., Diploma or Bachelor, as the case may be).

Program Duration

The Certificate in fisheries studies program is of one-year duration, the Diploma is two, and the Bachelor four years. Courses in all programs are delivered in semester blocks, of sixteen weeks per semester.

Course Delivery

The courses are delivered on a semester basis, with classes starting at 8.00 am, each day, from Monday to Friday. Delivery of the courses includes lectures, tutorials, laboratory work, field trips, research-based activities and other forms of training such as group discussions, workshops involving visiting scholars and experts in various fields, including fishery, marine, aquaculture, environmental, policy, and any other resource-related fields. The Departmental engages in collaborative work with stakeholders, including teaching and research, fr which all students are encouraged to participate. Research and practical laboratory works are strong components of the courses offered.
Programs Offered
---
Programs offered by the Department of Fisheries are as follows:
Short Trainings
---
The Department of Fisheries Studies delivers two sets of short training packages. The first set is tailor-made for students and rural communities while the second package is designed purposely for industrial workers.  The first set of training include; Post-harvest handling, fish filleting, marinating, fish smoking and tuna bottling.  The main objective of this is to teach students and community participants the best post-harvest handling practices, good hygiene and sanitary practices and different forms of preservation techniques. These basic practices are very important as they contribute a lot to the overall quality of the fish products. Although fish is known to be highly nutritious, it will lose some of its important nutrients if the quality is low. Fish is highly nutritious only when it is in its fresh form. The second set of training package include; Basic microbiology and chemical hazards in Seafood. This training is designed mainly to enhance the technical capacity of employees especially from companies like SolTuna that are dealing with different forms of seafood. The training on basic microbiology will enable participants to learn more about different types of bacteria, what they are capable of doing to our food and to the human body, and different techniques of detection and enumeration of these microbes in food. Chemical hazards on the other hand include all kinds of fish poisoning such as histamine, ciguatera, paralytic shellfish poisoning, botulism, pufferfish poisoning and hallucinogenic fish poisoning. These are important forms of poisoning that can develop in seafood when it is not properly handled and preserved.  The department believes that training local Solomon Islanders on these important practices in Seafood will help improve the quality of seafood sold in the markets and in turn help improve the health of local Solomon Islanders throughout the country.
Career pathways
---
A wide ranging career paths are open to graduates from our program. Graduates can develop career interests and find jobs as fisheries technicians, fisheries biologists, fisheries managers in commercial and artisanal fisheries, community fisheries advisors, aquaculture technicians in hatcheries, mangers in seafood processing and marketing, and many more. These can either be in government fisheries institutions or private and non-governmental fisheries organizations. Our graduates can as well become educators in their communities and in the fisheries industry. Most importantly, skills acquired by our graduates should enable and encourage them to set up and operate their own businesses in the fisheries and aquaculture industry.
Research Activities, Teaching and Learning
---
Research
While the Department is interested in and desirous to delve into a wide range of research activities, and is welcome to all forms of fisheries research initiatives, it is currently conducting a number of interesting research projects both internally (among academics in the Department), and with external research collaborators. Current research activities relate to issues in human-rights in the fishing industry, aquaculture challenges, fish feed for Mozambique tilapia (Oreochromis mossambicus), recovery of functional compounds from red seaweed (Kappaphycus alvarezii), and reproductive features of meso pelagic fisheries, local freshwater crustaceans and finfishes.
The Department currently runs a couple of research projects with the Kyoto University (Japan), Kwansei University (Japan) and the University of Tasmania (Australia), with support from Japan Society for the Promotion of Science (JSPS), investigating various issues in artisanal fisheries. The Ambléve Bedrock Foundation (Atlanta, USA), is currently assisting the Department to conduct research in fisheries biology of groupers (Epinephilidae), and student and community training in tuna bottling, as a post-harvest strategy to preserve fish and help local fishers to source external markets for their catch, increase household income, and promote community wellbeing.
Teaching and Learning
To promote and enhance effective teaching, the Department engages industry experts to deliver lectures in various thematic areas in fisheries; ranging from management challenges in the industry, processing and marketing, monitoring and control measures, and many more. Students are also taken on field trips to fish farms, fish markets, Fisheries Forum Agency (FFA), and other organizations in the industry for firsthand information and learning. The Department also engages industry experts to conduct practical training in some aspects of fisheries. For example, the Department is currently working with and expert from FFA to conduct laboratory workshops on tuna bottling. This is a valuable practical training on post-harvest fish handling.
The Department is well equipped with beautiful campus ambience, excellent lecture halls, modern scientific laboratories for practical training and learning, a Departmental library, and a well-furnished computer laboratory, and aquaculture hatchery. All are designed to assist students in their day-to-day learning activities and experience.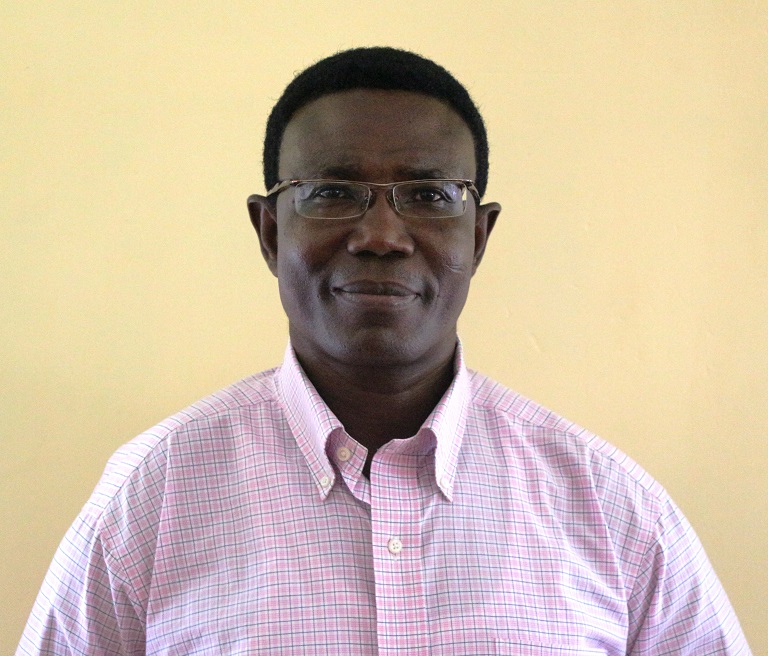 Dr. Kofi Otumawu-Apreku
Ph.D. (Economics), University of Adelaide, Australia
Master of Economics (MEc), University of Adelaide, Australia
Master of Business Administration (MBA), Lincoln University, Missouri, USA
MSc. (Econ/Stats), Odessa State University, Ukraine
Major Fields
Major field of specialization in Natural Resource and Environmental Economics, with a focus in marine resources. Other primary fields include Applied Microeconomics; Econometrics; Applied Statistics; and Banking & Finance.
Teaching
Current teaching areas include Bio-economic modelling; Economics of Fisheries Management; Biostatics; and Mathematics.
Research interest/Activities
Major research interest is in fisheries, marine resource management, and efficiency analysis [in marine resources], with a current research focus in fisheries, food security, marine resource and environmental management.