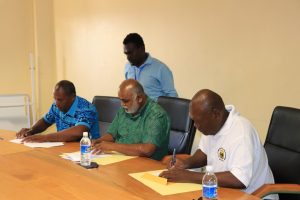 The Solomon Islands National University(SINU) signs a Memorandum of Agreement (MOA) with the Solomon Islands Maritime Safety Administration (SIMSA).
The MOA aims to ensure the Maritime Industries employers and employees comply with the Solomon Islands Maritime Safety Administration Act through Training and Education.
In the MOA, the Parties will work in partnership to deliver short course training in Basic and Advance Safety, Master class 6, Pre Sea Integrated Ratings (Marine) and outboard motor operators. This, in turn, will provide the maritime Service and related industries with the much needed qualified workforce in Maritime for the Solomon Islands.
Speaking during the signing ceremony, Vice-Chancellor Dr. Ganesh Chand said SINU is aiming to meet what the industry needs and this MOA addresses that. "SINU will ensure that whatever the maritime industry needs in terms of training, we respond to it efficiently and effectively," said the VC.
"This MOA is so meaningful for SINU and we hope it will be for SIMSA as well in making Solomon waters safer for everybody," the VC concluded.
The Director (Ag) of SIMSA Mr. John Mitau thanked SINU for identifying and noting the importance of training in the maritime area. He said the MOA covers all the training needed and he is glad that it also covers training for out-boat motor (OBM) engines which the majority of Solomon Islanders used. He said SIMSA's search and rescue always have problems with OBM operators and he thanked SINU for realizing the need for training.