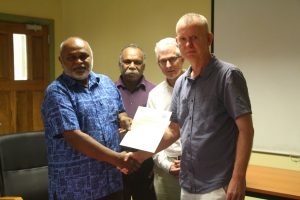 Today (Jun 27th), SINU and RMIT University signed an MOU which will allow staff and students from SINU's Institute of Technology involved in RMIT Projects here in the Solomons.
During the brief signing ceremony, Vice-Chancellor Dr. Ganesh Chand said SINU sees RMIT as a role model as they're a dual-sector champion in the Region. Like RMIT, SINU also offers High Education programs as well as TVET programs.
With this MOU, we will seek avenues from RMIT to help SINU in its TVET programs; the Vice-Chancellor said.
Professor Darryn McEvoy from RMIT and Vice-Chancellor Dr, Ganesh Chand signed the MOU.