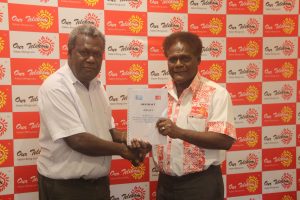 SINU Acting Vice-Chancellor, Donald Malasa and Telekom CEO, Loyley Ngira signed a contract on June 19th for Telekom to supply and install/commission a Phase 2 of fibre reticulation system on Kukum Campus.
The reticulation will link the Vice-Chancellor's office, Institute of Tourism and Hospitality, School of Nursing and Allied Health Sciences, School of Business and Management, Business Investment and Commercial Services Department, Research Department and students' general computer lab via fibre. The installation will further enhance internet-based services in these areas to implement internet based services such as voice over IP system, CCTV cameras, etc.
Furthermore, the installation will also put SINU in a better position to experience new high-speed internet services when the proposed submarine cable lands in the country. SINU is already on a fibre connection with Solomon Telekom. In addition, Kukum, Ranadi and Panatina (DFL) campuses are already interconnected via fibre. The School of Education and Humanities (Panatina Campus) will be connected to fibre when the new 3-storey complex now under construction at the campus is completed.
Each party had agreed to work together to support SINU in its endeavour to improve ICT services to enhance teaching and learning at the university