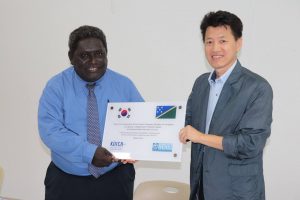 It was in December of 2017 that KOICA presented to Solomon Islands National University (SINU) the world-class Fisheries complex which young Solomon Islanders are currently enjoying today.
Wednesday's KOICA's generous assistance was again witnessed by SINU with the handing over of the new Aquaculture Laboratory.
Speaking during the hand-over ceremony, Country Director of KOICA Mr. Jong Yong Park said the Aquaculture or Fish culture Laboratory is to strengthen the capacity of the Department of Fisheries Studies in the Solomon Islands.
He further stated that KOICA is fully aware that agriculture, fisheries and education are the priority sectors in the Solomon Islands and as a donor country, Republic of Korea has confidently forged the partnership with the Solomon Islands to strengthen the cooperation between the two governments and effect change for the good and prosperity of the recipient country.
"The laboratory will help to establish a base of research and development institute in SINU which may be maintained and developed to become the hub for Fisheries studies in the country and eventually become one of the best scientific research institutes in the south pacific region," said Mr. Park.
Receiving the gift on behalf of SINU was the Dean of School of Technology and Maritime Studies and Currently Acting Pro-Vice Chancellor Corporate Solomon Pita.
"Since 2017, SINU has been privileged as one of the academic institutions to benefit from the Korean International Cooperation Agency (KOICA) Volunteer Program.
"This timely opportunity fell in line with the successful completion of the construction of the Department of Fisheries Studies (DFS) building complex. Volunteers with specific expertise in various relevant sectors were dispatched to a few schools and departments in SINU.
"DFS was fortunate to be one of those departments; receiving an aquaculture expert for the Aquaculture strand of its programs. Hosting this KOICA volunteer has been a win-win academic and technical experience for the department, the volunteer, and KOICA," Mr. Pita responded.
Pro-Vice Chancellor Corporate (Ag) then thanked the people of the Republic of Korea through KOICA for their continuous support.
He concluded by promising to maintain and use the facility to achieve its objectives, SINU and DFS highly anticipate that the KOICA volunteer program will continue.
The department demonstrates its commitment to sustain such relationship and development by developing a comprehensive Strategic Plan for the foreseeable future.
This document is an important achievement for this new Department and today we also celebrate its successful completion and launching.