I. The Learning Pathway Education
Hi everyone. As we begin 2021, parents and students who did not have a place in Forms 4, 6 and 7 are pondering where next or what to do from here. The good news is the Solomon Islands National University has APROVED upgrading programs for those that did not have a place in Forms 4, 6 and 7. The upgrading programs create the pathway for you to follow to find a place at a University and rekindle your plans and dreams.
You can cross credit the marks for the subjects that you scored well in and only upgrade the others that needed upgrading. For Form 3s, you have 6 units of study that you can complete in a minimum of one year or a maximum of one and a half years. After successfully completing the program, you can then proceed to do the University Preparatory Certificate 2. This program has six units; however, since you would have already done Basic Computer in the University Preparatory Certificate 1 (UPC1), you will only do five (5). If you successfully completed the five units, you can apply for any higher certificates offered by the distance mode. However, if you wish to do diplomas on campus, we advise you to continue to the University Preparatory Certificate 3. This program has three (3) streams; the Arts, Business and the Science Streams. This helps you to concentrate on the field that you wish to pursue.
The Forms 5 who comes from the school system will be doing six (6) units unlike the Forms 3 who have done the UPC1 who will only do five (5) units.
The upgrading programs are:
The Pathway Diagram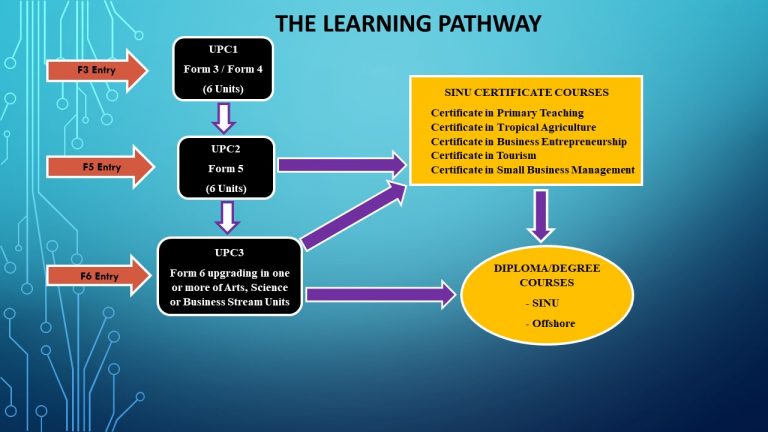 II. Higher Qualification Programs
The following Higher Qualification Certificate Programs are currently on offer through the Distance and Flexible Learning Centre.
Certificate in Tropical Agriculture (CTA) - (Faculty of Agriculture, Forestry and Fisheries).
Certificate in Business Entrepreneurship (CBE) - (Faculty of Business and Tourism).
Diploma in Youth Development (DYD) - (Faculty of Education and Humanities).
Diploma in Primary Teaching
Pure Science Certificate pathway programs
Certificate in Physics and Chemistry (Faculty of Science and Technology)
Certificate in Mathematics and Physics (Faculty of Science and Technology)
Certificate Mathematics and Computer Science (Faculty of Science and Technology)
Certificate in Mathematics and Chemistry (Faculty of Science and Technology)
Certificate in Biology and Chemistry (Faculty of Science and Technology)