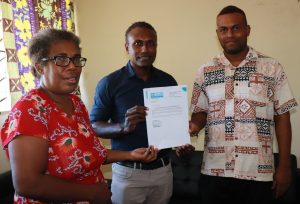 Dr Hiele put pen on paper on 14th May 2021 to join our National University as an Assistant Professor in Computer Science at the School of Computer Science in the Faculty of Science and Technology on a three-year contract. Dr Hiele, who hails from Roviana in the Western Solomons, had just returned from the Republic of China (Taiwan) after serving four years as Assistant Professor at Tunghai University (1 yr) and Ming Chuan University (3 yrs). To date, Dr Hiele has published seven academic papers in top-tier journals such as the Journal of the Association for Information Systems, International Journal of Electronic Commerce, Journal of Computer Information Systems, to name a few.
From a humble beginning at Elelo primary school, Dr Hiele attended Biulah PSS, then to Goldie College before attending King George VI NSS. Dr Hiele was awarded the Taiwan MOFA Scholarship to do studies in Taiwan in 2005. Dr Hiele Graduated with a Bachelor of Science in Applied Computing at Ming Chuan University, Graduated MBA in Management and Service Science at Yuan Ze University and Completed his PhD in Management Information Systems at National Cheng Kung University. Dr Hiele also attended several International Conferences in Taiwan and Indonesia.
After the signing ceremony, Dr Hiele said, he is so delighted and humbled to come home to contribute to the intellectual development of this Nation. He said the decision to return home was easy. The likes of Dr Paulson Bosawai Popora who is also an alumna of National Cheng Kung University returned home and started SAPE Medical Clinic and the SAPE Farm despite being offered lucrative jobs in Taiwan.
To my students at SINU, I want you to be prepared because our lives evolve with technology, ICT as a platform impacts human lives, therefore, it will not just about what we did in class, but its more about our contribution to advancing ICT in the Solomon Islands, hence, advancing people's lives.  
Acting Vice-Chancellor and Pro-Vice-Chancellor Academic Dr Jack Maebuta welcomed Dr Hiele's decision to put the interest of the Solomon Islands at heart and come home to serve at the National University. His decision falls in line with the new academic restructuring the University adopted since 2019. Dr Maebuta stated that SINU will always welcome qualified Solomon Islanders who have the heart like Dr Hiele to come home and contribute to the development of our beloved Solomon Islands.